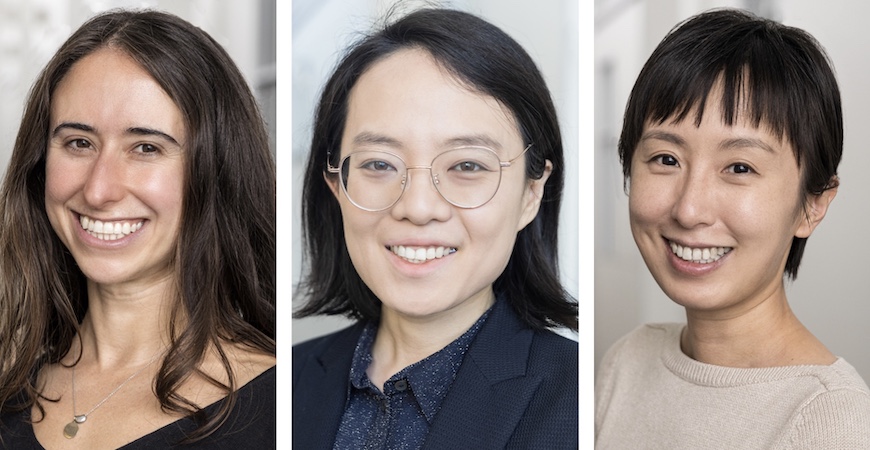 Three UC Merced researchers have recently received the prestigious Hellman Fellowship.
Computer science and engineering Professor Shijia Pan, economics Professor Briana Ballis and life and environmental sciences Professor Xuan Zhang have all been named Hellman Fellows.
The Hellman Fellows Program was launched at UC San Diego and UC Berkeley in 1995 by Warren and Chris Hellman to provide early career funding to faculty members who hadn't yet made tenure. They were inspired by their daughter Frances, a UC Berkeley physics professor who found that young faculty members faced challenges after initial funding options ran out and before other external support was available. The Hellmans pledged to fill that gap.
The program has been expanded to include all 10 UC campuses and four private institutions.
Since 2011, the Hellman Fellows Fund has provided dozens of UC Merced assistant professors with much-needed research support in the form of seed funding. In 2021, UC Merced permanently established the UC Merced Society of Hellman Fellows with a $3.5 million gift from the Hellman family.
At UC Merced, the awards will allow the researchers to take the next steps in their work.
Pan's work centers on "ubiquitous computing and Internet of Things, focusing on turning ambient objects into sensors for non-intrusive human monitoring."
The Hellman Fellowship will allow Pan to pursue a new direction of manipulating physical properties of surfaces to filter and amplify human signals for the next generation of extreme low size, weight and power (SWaP) surface sensors. This is aimed at providing seamless smart home services to people.
"The fellowship is a great encouragement and vital initial support for the new direction of surface computing that I'm eager to explore," Pan said. "The outcome of this research project will allow us to better support our aging community and their caregivers."
Zhang's research focuses on air pollution, specifically, "gaining a predictive and mechanistic understanding of the sources, chemistry and environmental impact of gaseous and particulate pollutants in the air."
The Hellman Fellowship will allow Zhang, an atmospheric chemist, to work on developing methods to predict the distribution of hazardous air pollutants in the San Joaquin Valley, which is often among the regions with the worst air quality in the United States.
"Understanding the processes that contribute to this hazy smog is of crucial importance for the well-being of every community member in the Valley," Zhang said.
Ballis' research addresses upward mobility with a particular focus on the role educational experiences play in shaping it.
"The broader goal and common thread in my research agenda is to better understand the determinants of educational investments for vulnerable groups and to identify effective policies and interventions during childhood that help reduce pre-existing gaps and improve the chances of upward mobility later in life," she said.
Funding from the Hellman award will allow Ballis an additional year of funding to access administrative data from Texas that is crucial to her project, and to employ a graduate student to assist her.
"This project will provide valuable new insights into the medium-term consequences of early-life health conditions," she said. "Through this data, I will be able to comprehensively analyze the effects of early-life health shocks on children's development and their educational outcomes during early adulthood."